Details make the difference when showcasing an average design versus an exceptional design. So when it comes to your upholstered furniture project, taking it to an entirely different level may rely on the customizations you have available to you.
 The key is to work with a textile company that offers several options for furniture upholstery fabric. Below are five options to consider as you begin to plan your design project:

Variety of Fabric Colors
Custom Printing
Fabric Backing
Protective Coatings
Fire Coatings
Variety Of Fabric Colors
With a spectrum of colors to choose from, selecting a specific hue for your project can be an important decision. Once you land on that decision, you want the finished product to reflect your choice accurately. 
That's why you should never rely on the manufacturer's website for color. It is always better to request a free swatch so you can see the color in person and are more likely to receive the color you desire.  
Dye lot variations are common in the textile industry, and color shifts can happen with "stock" colors. One solution to avoid this is to have your own custom dye lot created. This can help ensure your upholstery fabric features the color you want since much more stringent controls are added so that the mill can meet the specifications. The result is repeatable and reliable with a maximum variation of 3% to 5%.
Cust
om Printing
Print services are an excellent method to bring a project to life. There are typically two types of print services
available: Rotary/flat bed printing and digital printing.
Rotary/flat bed printing is a direct-to-fabric printing technique where the image is engraved on precision-cut stencils, also known as screens. Multiple screens can be used to create a multi-color design and can produce vivid colors and intricate patterns on your upholstery fabric. Crisp lines and detailed images are created using screen printing, allowing ink to penetrate the fabric and hold color better and longer for a custom print. 
Digital printing on fabric is also known as DTG or direct-to-garment printing. A digital print is an ink-jet-based method of printing colorants onto fabric. This printing process allows for lower minimums, eliminates screen charges and removes the need for screen storage. A new trend is emerging where larger designs are printed onto larger rollers so corporations can brand their company or advertise their message. 
Interior design trends often use fun patterned prints as an accent for a room. Think cherries, bold blue and white damask, and prints that draw inspiration from clients' travels to other countries.
Protective Coatings
While protective coatings do not necessarily impact the look of your project, they very much impact durability. 
 While a design may be aesthetically pleasing, if it doesn't hold up in real world conditions, quality becomes an issue. Today, many homeowners and businesses want protection against everyday dirt and grime. 
 To address this, one of the most popular protective finishes used on upholstery fabric is a nano coating, or a very thin transparent plastic polymer film coating that helps to repel dry particles, water, oil and dirt. Other options include Scotchgard and Alta treatments, which protect the fabric against dirt and spills.
 You can also opt to have manufacturers apply antimicrobial, antibacterial and antifungal treatments to prevent the buildup of bacteria, fungi, and dust mites. These treatments are typically needed for design projects at schools, hospitals, and outdoor environments.
Fabric Backing
The backing on your fabric is an important consideration since the slightest change in fabric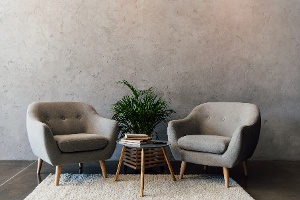 weight can alter what your final product looks like. Manufacturers permanently add backing to fabric to help prevent seams from slipping, fibers from breaking down and to boost durability.
The scope of your project largely determines what type of backing you need. For example, you'll likely consider latex backing since this type of coating helps prevent soil from sifting through the fabric.
If you have a lighter-weight fabric that you love, but need to increase how well it holds up against everyday wear and tear, you can consider a knit backing. This type of backing allows you to consider fabrics like chenille or silks for projects that need more durability.
Fire Coatings
One of the most important customization options you may need to consider is a fire coating. In fact, you may not have a choice depending on the scope of your project. 
If you are designing for customers in a commercial space, the fabric you use must meet a certain fire rating. For example, the state of California requires that furniture must comply with TB117-2013. This regulation requires that upholstery fabric pass smolder cigarette tests.
 Fabrics used in public places must also meet fire safety standards as outlined by the National Fire Protection Association and California law. If your design project involves work in the public sector (federal, state and local government buildings, hospitals, medical facilities, etc.), it's important that the fabric you use meets fire codes. 
 Fire retardant applications are also often required under California law for public spaces. Fire retardant applications can be sprayed on or brushed on and help limit the spread of a fire. Rather than igniting, the fabric is protected under intense heat. 
 If your project must meet any of the above requirements, it's important to check with your supplier to ensure that you have this option or that the fabric you are considering meets this threshold. 
 With any of the customizations above, it's also important to check with the wholesale fabric supplier you are working with to determine whether any of your choices will impact your lead time. The best wholesalers will have standard lead times for certain types of customizations and will be upfront with you about when you can expect your fabric so that you can get your project underway. 
Finding The Right Fabric Provider
Finding the right supplier is a decision you will need to make early on based on the customizations your project requires. 
It's important to note that there are distinct differences among fabric retail stores, distributors and a manufacturing company/supplier.  
A fabric retailer will have a brick-and-mortar location that makes it easy to purchase what you need quickly. However, you'll pay a higher price for your fabric and may not have access to the best quality fabrics because they often cater to a mass-market audience of casual consumers.  
A fabric distributor is more likely to have the quantities of high-quality fabric that you need. However, you'll still pay more to work with a distributor since the distributor purchases the fabric directly from the manufacturer. The distributor will then increase the price before selling it to a retailer or directly to a buyer. 
A fabric manufacturer or supplier is also more likely to have the quantities of high-quality fabric that you need. However, because you are skipping the retailer and distributor and going straight to the manufacturer for your materials, you can take advantage of a lower overall price because you won't pay for the markups. 
Another advantage of working directly with a manufacturer or supplier is that you can get answers to your questions more quickly. A retailer or distributor may need to check with the manufacturer first before being able to answer your question. 
However, one challenge you may face is finding a supplier that offers wholesale prices without a bulk purchasing commitment. If you need a smaller amount of fabric for your project, be sure to check with the supplier to see if there are any minimum order requirements first. 
Not all fabric manufacturers or suppliers will offer the same customization options that we outlined above, so it's important to think about which ones are available when choosing a fabric partner to ensure a successful outcome.