A home is an oasis, and whether you're designing an indoor or outdoor area, clients want the space to feel cool, calm and collected. 
With a timeless appeal, blue linen creates a beautiful, sophisticated environment that rises to the occasion. 
Known for its sustainable qualities, undeniable comfort and long-lasting appeal, linen is a popular choice among designers for indoor and outdoor furniture upholstery, drapery, and table linens. Earthy blue dyes bring a soothing color palette to a space while providing an often-needed pop of color that can be paired with neutral tones or other vibrant accent colors. 
While blue linen is a great centerpiece to any design plan, there are a lot more details to consider when choosing the type of fabric you plan to incorporate. 
Types Of Linen
The flax plants used to create linen are grown in various locations throughout the world, from China to Ireland,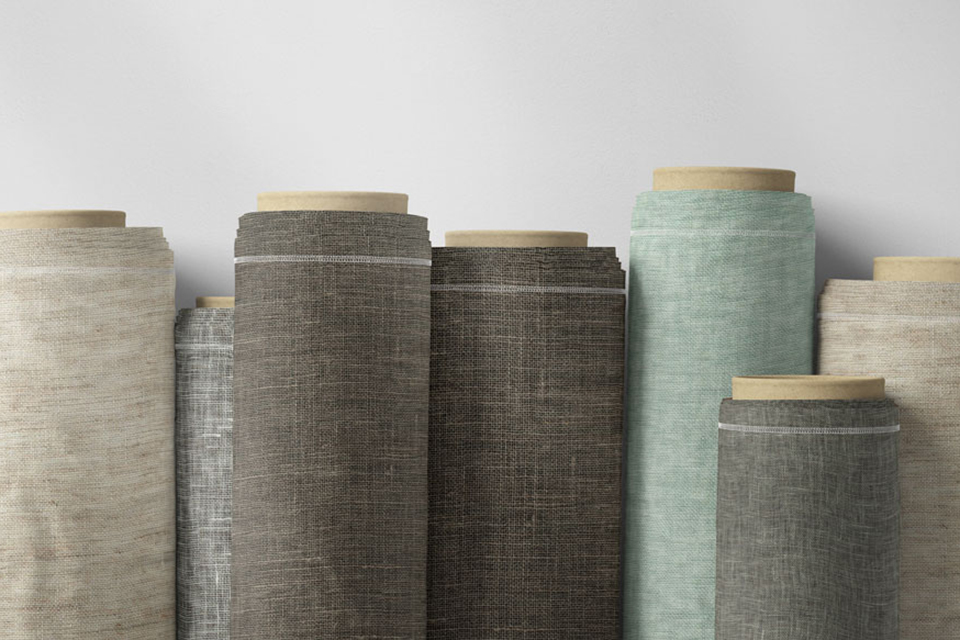 Italy and the United States. However, nestled in the rolling countryside along the English Channel in Europe is farmland that has been home to flax production for generations.
It's here in the coastal communities of Belgium, the north of France and the south of the Netherlands that love and linen are synonymous. The region's deep history has blended with modern-day advances to offer a fabric that has been perfected over generations.
While you may have heard of specific types of linen, like Belgian linen or French linen, European linen sources the same flax fibers grown in this region. In fact, flax fibers sourced for Belgian linen often come from nearby fields in France and the Netherlands. 
This doesn't make any of these types of linen any more or less luxurious. It simply means that countries, like Belgium, have done a better job of marketing their product.
In the end, this region offers an oceanic climate, rich soils and a culture deeply rooted in sustainable farming practices … all perfect for growing flax plants used to create luxurious linen fabric.
Shade Of Fabric 
Indigo, navy, midnight, cornflower, sky and slate blue are among the hundreds of shades available to you as a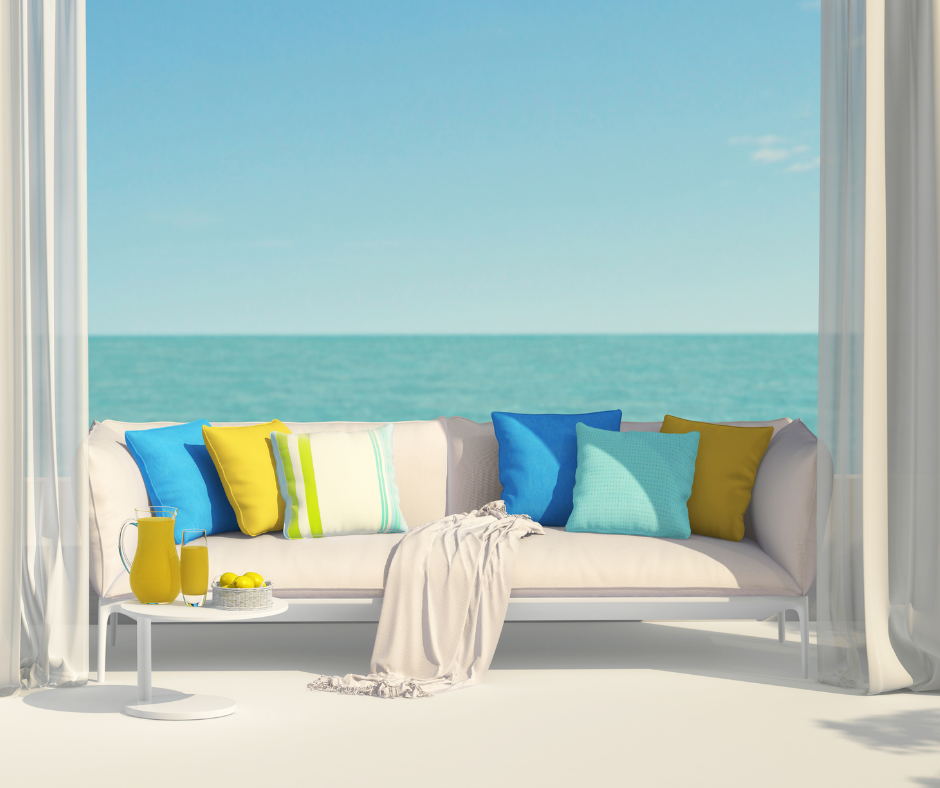 designer. Whether it's drapery, upholstery for outdoor furniture or a redesign of a formal dining space, the color you choose sets the tone for the space.
Perfect for indoor and outdoor spaces, blues that are inspired by the colors of coastal waters can instantly transform an area into a beach getaway in the Hamptons. 
Fabrics that celebrate organic textures and natural scenes are also popular, as are undertones of colors like pastel blues and aqua blues for cozy accent pieces like pillows, table decor and chair slipcovers. 
Rotary printing, a direct-to-fabric printing technique, can also take blue linen used to construct tablecloths, napkins, curtains and other decorative pieces to the next level. During this process, an image is engraved on precision-cut stencils, called screens. Multiple screens can be used to create a multi-color design and can produce a pop of vivid colors and sophisticated designs.
New digital processes can also take metallic coatings and create a "glitter" effect. 
When choosing a linen fabric for your project, do not rely on the manufacturer's website for color. Computer monitors can make colors look different. It is better to request a linen swatch so that you are more likely to receive the color you desire. 
Dye lot variations are common in the textile industry, and color shifts can happen with "stock" colors. Having your own custom dye lot created can help ensure your fabric features the color you want since much more stringent controls are added so that the mill can meet the specifications. The result is repeatable and reliable with a maximum variation of 3% to 5%.
Linen Weave Patterns
How your blue linen fabric is woven can add to its appeal and overall look as well. Among popular weave patterns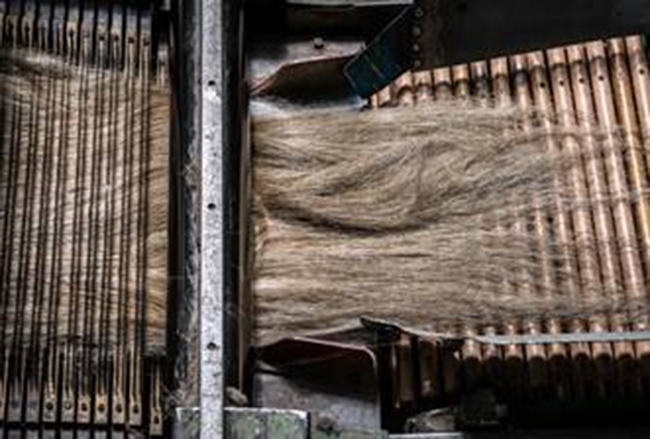 found in linen that is used in indoor and outdoor spaces are damask, plain-woven and sheeting.
Damask linen is more delicate and is often compared to embroidery. Patterns created during the weaving process give this type of linen an ornate look. Designs often are subtle, appearing to the eye when the light in the room changes. Because of its delicacy, damask linen is often used for special occasions or as decorative additions to a room.
Plain-woven linen is common in today's household kitchens and used to construct towels and napkins but is also popular in tablecloths. Though simple, plain-woven linen is very durable, making it the perfect choice for fabric that will be repeatedly used and cleaned. Plain-woven often features a checkered pattern or a striped pattern.
Sheeting linen is used frequently in apparel and bedding because it has an untextured appearance. Because it has a close weave, it often has a higher thread count and feels heavier to the touch.
Linen Blends
There are a handful of linen blends that might appeal to you as you plan your design project. These linen blends can still incorporate vibrant blue colors but may offer different benefits depending on your needs.
 For example, the rayon part of a linen/rayon blend allows the fabric to drape nicely and offers a subtle sheen. Rayon is a manufactured fiber made from wood pulp.
 A linen/cotton blend helps reduce the number of wrinkles linen fabric can experience. A linen/polyester blend offers the same benefit, but also helps the fabric retain its blue color.
Finishes
Depending on your project, you may want to add special finishes to your blue linen fabric.
Various treatments add and increase the performance of linen fabric. Finishes available include anti-shrinking, wrinkle-proofing, stain resistance and waterproofing … a finish that is important to consider when designing for an outdoor space.
Many fabrics must also meet flammability codes. In fact, fabrics used in public spaces must meet fire safety standards as outlined by the National Fire Protection Association and California law. By limiting the spread of a fire, a building structure can be saved.
If your application requires the fabric you use to meet fire codes, check with your supplier to ensure the fabric has received a protective coating or finish. A coating can be applied to several decorative items, from window treatments to table linens, upholstery and drapery.
A nano-coating is another type of finish that can be especially important when designing for an outdoor space. A nano-coating is a very thin transparent plastic polymer film coating that is applied to surfaces to help repel dry particles, water, oil and dirt. It can also be used to create resistance to bacteria. 
These coatings are invisible to the eye and undetectable to the touch. They can be used in a wide variety of applications, including on furniture and curtains. Once these products are treated with a nano-coating product, they more easily rebuff dirt and prevent the absorption of water.
Finally, Scotchgard and Alta treatments are other types of common protective coatings widely used in homes and office spaces. These treatments prevent fabric stains that can occur from dirt and spills. 
Help Navigating Your Choices
If you need more expert help navigating your choices, it's important to turn to an experienced linen fabric supplier who can work with you to ensure you have the type of fabric, amount and finishes you need to successfully complete your project.
 Make sure that the linen company you work with provides the highest quality yarn and can offer you a customized product that meets your project's timeline. 
 Our article, What A Linen Company Should Provide, offers advice on what the top qualities of a supplier should feature so that you can build a long-lasting relationship.